 Click here for Educational Standards Working Group members' area
Recommended Standards of Education and Training for Health Professionals Participating in Medicines Development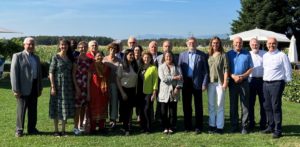 Participants at the 5th meeting held in Geneva on 6-7 September 2023.
Background
The development of new medicines is a critical part of health innovation. Following the exponential advancement in the basic biomedical sciences and clinical medicine observed in the last 50 years, drug (medicines) development has become a complex set of disciplines with distinct scientific methodology and established needs for education.
The key disciplines in medicines development include clinical research, bioethics, drug safety, regulatory sciences, health economics and medical affairs. However, there is currently not a holistic approach and thus the education programmes available provide only partial knowledge of the entire process.
CIOMS is well positioned as a unique global and scientific organization to develop a multi-stakeholder consensus report related to harmonization guidelines for education and training in medicines development. The CIOMS guideline would serve as a worldwide reference for postgraduate programmes as well as for the competency-based knowledge needed for professionals working in pharmaceutical and biotechnology companies involved in product development and marketing.
Objectives
The main objective of this working group would be to discuss and develop a consensus report giving recommendations on the principles of competency-based knowledge needed for healthcare professionals working in medicines development.
In order to support this, the CIOMS WG would propose standard guidelines promoting harmonization across all stakeholders working in and providing education in medicines development.
Progress
 1st meeting held on 26-27 April 2021 (virtual)
2nd meeting held on 29 March 2022 (virtual) Minutes
3rd meeting held on 6-7 September 2022 in Geneva (in person)
4th meeting held on 30 January 2023 (virtual) Minutes
5th meeting held on 6-7 September 2023 in Geneva (in person) 
6th meeting held on 26 October 2023 (virtual) Minutes

The Working Group (WG) makes the minutes of its in-person and virtual meetings public. Persons and parties not part of the WG are welcome to give their feedback. Please send your input to: batesc@cioms.ch.
CIOMS Working Groups usually take 2-4 years to finalize their consensus document and recommendations. Most groups hold two in-person meetings per year, with telework in between. The groups make use of collaborative efforts and capitalize on existing initiatives in order to provide output that is as comprehensive as possible, does not duplicate other efforts and has added value.
CIOMS MEETINGS
Upcoming Meetings
07 - 08 March 2024
Geneva, Switzerland
9th Meeting of the Working Group on Artificial Intelligence in Pharmacovigilance
8th Meeting of the Working Group on Artificial Intelligence in Pharmacovigilance