 CIOMS WG XII member area:
Access Working Group documents here.
Existing CIOMS guidelines referenced in the Concept Paper include:
WG XI Patient Involvement (work in progress)
Working Group XII – Benefit-Risk Balance for Medicinal Products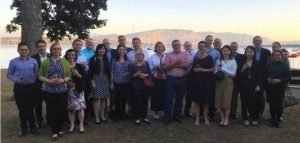 Participants at the first meeting of the Working Group, Geneva, 17-18 September 2019
Medicines assessment during public health emergencies needs good science, best practices and proper communication
Statement of Council for International Organizations of Medical Sciences (CIOMS) International Expert Working Group, 3 June 2020

Background
The CIOMS Working Group (WG) XII on Benefit-Risk Balance for Medicinal Products was launched in September 2019 and includes participants from industry, regulators, academia and the World Health Organization. The group is working together to update CIOMS IV on Benefit-Risk Balance for Marketed Drugs: Evaluation of Safety Signals, originally published in 1998, and potentially but not necessarily, to extend the scope to include pre-approval as well as post-marketing considerations for medicinal products.
Working Group objectives
The WG will build on previous considerations established by CIOMS WG IV, incorporating the latest thinking in quantitative and qualitative approaches to the evaluation of benefit-risk (B-R), as well as assimilating visual presentations of benefits and risks to improve transparency and understanding amongst key stakeholders, including patients. The perspective of healthcare professionals and patients will be considered based on other ongoing initiatives as well as new guidelines from regulatory authorities and public-private partnerships. Specific aspects of the (B-R) evaluation may include considerations during drug development, approval for marketing, post-marketing pharmacovigilance and risk management. The aim will be to formulate key principles to be considered during the (B-R) evaluation at different stages of the product life cycle. While it is recognized that ICH guidelines already exist for submissions to regulators, such guidelines remain high level and do not cover real-life examples of (B-R) assessments during different stages of the product life cycle. The practical examples, which proved very useful in the original CIOMS IV publication, will be replaced by more recent experiences pre- and post-approval. The new WG will aim to provide practical guidance to key stakeholders – drug developers, regulators, healthcare providers and patients – on the conduct of high quality, balanced and comprehensive evaluation of benefits and risks to inform decision-making and enable access to medicines by patients who need them. This will be based on many 'real-life' examples from key stakeholders, using the usual collaborative consensus approach of CIOMS.
Progress
1st meeting was held on 17-18 September 2019, Chavannes-de-Bogis (near Geneva), Switzerland. (Minutes + WG participants)
2nd meeting was held on 29-30 April 2020 (virtual meeting) (Minutes)
3rd meeting was held on 8 September 2020 (virtual meeting) (Minutes)
4th meeting was held on 2-3 March 2021 (virtual meeting) (Minutes)
5th meeting was held on 18 June 2021 (virtual meeting) (Minutes)
6th meeting was held on 21 September 2021 (virtual meeting) (Minutes)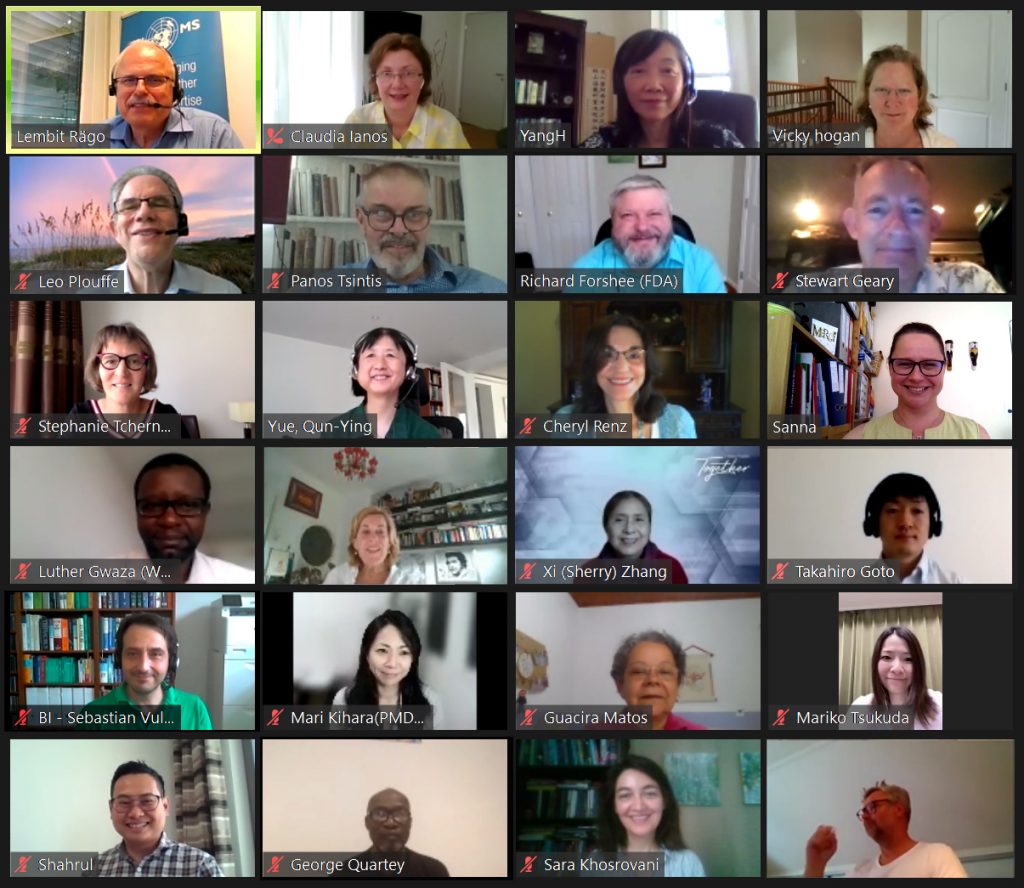 Participants at the fifth meeting of the Working Group, virtual meeting due to the pandemic, 18 June 2021
CIOMS Working Groups usually take 2-4 years to finalize their guidance and recommendations. Most groups hold two in-person meetings per year, with telework in between. The groups make use of collaborative efforts and capitalize on existing initiatives in order to provide output that is as comprehensive as possible, does not duplicate other efforts and has added value.