 Working Group XIV Artificial Intelligence in Pharmacovigilance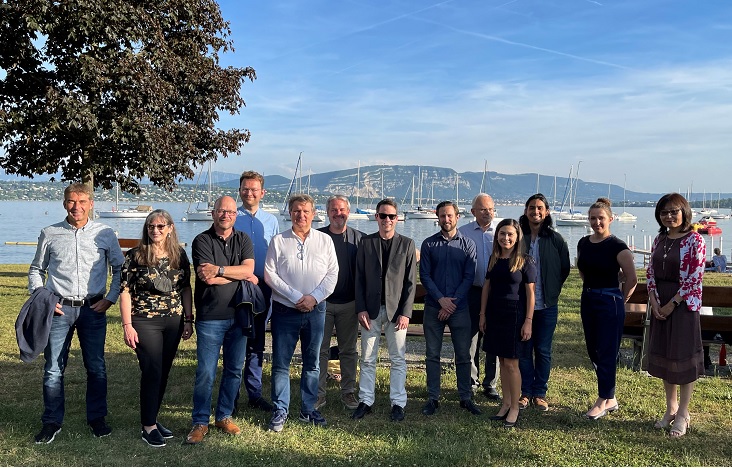 The first meeting held in Geneva in May 2022 was a hybrid of in-person and virtual meeting, only those physically present are seen above.
Background

Since the early 2000s, the ability of computer algorithms to solve pre-specified tasks previously performed by human specialists has rapidly evolved. This falls within a field of research referred to as Artificial Intelligence born in the 1950's and dedicated to the study of intelligent agents – systems that can perceive their environment, act autonomously to achieve certain goals and adapt their behaviour over time. Intelligence augmentation is the combination of artificial and human intelligence seeking to complement and enhance human specialist performance.
Already, well-resourced regulatory authorities and biopharmaceutical companies are adopting automated or semi-automated approaches to data management and analysis – a digital transformation catalyzed by the unprecedented volumes of incoming individual case reports to process and assess during the COVID-19 vaccination campaigns.
Artificial intelligent agents can free human experts from tedious and repetitive tasks in pharmacovigilance, allowing them to dedicate their time and efforts to analyses requiring the full breadth and depth of their expertise, such as differential diagnosis or causality assessment. Moreover, intelligent agents can distil and compile information from vast and diverse data sources, enabling human specialists to make better-informed decisions and highlight patterns that they may miss.
In contrast, misguided automation efforts focused exclusively on efficiency and financial targets, risk eliminating the value added by humans in the loop and could ultimately compromise the unique strength of the pharmacovigilance system which has been designed to capture data specifically for the purpose of causality assessment in the individual case.
CIOMS Full Concept Note on AI in PV
Working Group objectives
The objectives of this Working Group are to establish and promote principles and guidance for the use of artificial intelligence or intelligence augmentation in the field of pharmacovigilance building on and complementing the broader initiatives underway.
Progress
1st meeting held on 18-19 May 2022 (Geneva) Minutes
2nd meeting held 10-11 October 2022 (Geneva) Minutes
3rd meeting held 19 January 2023 (virtual) Minutes
4th meeting held 12 April 2023 (virtual) Minutes
5th meeting held 6-7 June 2023 (Zurich) Minutes
6th meeting to be held 27 September 2023 (virtual)
CIOMS Working Groups usually take 2-4 years to finalize their consensus document and recommendations. Most groups hold two in-person meetings per year, with telework in between. The groups make use of collaborative efforts and capitalize on existing initiatives in order to provide output that is as comprehensive as possible, does not duplicate other efforts and has added value.
CIOMS MEETINGS
Upcoming Meetings
11th meeting of the WG XII on Benefit-Risk Balance for Medicinal Products
04 - 05 October 2023
Geneva, Switzerland
18th meeting of the Working Group XIII on Real-World Data & Evidence in Regulatory Decision-Making