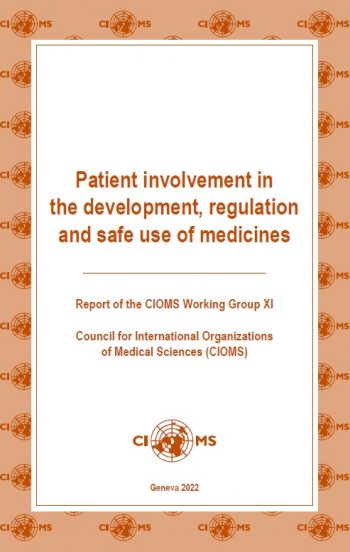 visibility View in shop
Working Group XI
Working group report: Patient involvement in the development, regulation and safe use of medicines. 2022. https://doi.org/10.56759/iiew8982
WG Member area: to access the Working Group documents please click one of the links below:
Working Group XI – Patient Involvement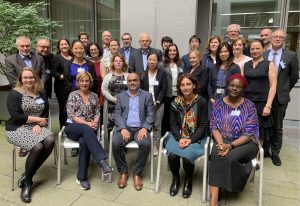 Participants at the fourth meeting of the Working Group, Basel, 16-17 October 2019
Background
The importance of patient involvement throughout the life cycle of pharmaceutical products, from their development to their use on the market has increasingly been recognized. Patients are now invited to state their perspectives and preferences on new needed medicines, to provide input to regulatory benefit-risk assessments through public hearings and consultations, and to submit adverse reaction reports to pharmacovigilance systems using new technologies such as mobile apps or social media.
Previous CIOMS guidelines have recognized the role of patients as key stakeholders in the safe and effective use of medicines, and some input from patients themselves was obtained for the first time by the CIOMS Working Group (WG) IX when formulating its guidance on Practical Approaches for Risk Minimisation of Medicinal Products.
Working Group objectives
The CIOMS Working Group XI on patient involvement in the development, regulation and safe use of medicines was launched in April 2018. It includes participants from patient organizations, industry, regulators, academia and the World Medical Association. These experts are working together to formulate pragmatic Points to Consider in patient involvement. The guidance will provide a comprehensive overview of present knowledge and existing initiatives, and will address a wide range of the remaining challenges and practice gaps. The optimal consideration of patient perspectives will support the safe and effective use of medicines, thereby helping to improve the health of individuals and the public.
Progress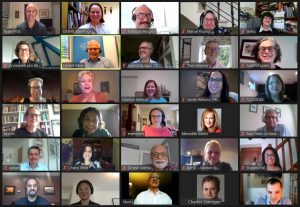 Participants at the eighth meeting of the Working Group, held on 20-21 October 2020 in virtual format due to the pandemic

CIOMS Working Groups usually take 2-4 years to finalize their guidance and recommendations. Most groups hold two in-person meetings per year, with telework in between. The groups make use of collaborative efforts and capitalize on existing initiatives in order to provide output that is as comprehensive as possible, does not duplicate other efforts and has added value.
CIOMS MEETINGS
Upcoming Meetings
04 - 05 October 2023
Geneva, Switzerland
18th meeting of the Working Group XIII on Real-World Data & Evidence in Regulatory Decision-Making
06 - 07 September 2023
Geneva, Switzerland
5th Meeting of the WG on Education and Training for Health Professionals
31 - 01 August - September 2023
Neuchatel, Switzerland
8th Meeting of the CIOMS WG on Good Governance Practice for Research Institutions
6th meeting of MedDRA Labelling Groupings Working Group